Stacked Like Pancakes, Freak Mythology, JIMS
Wed
April 25, 2018
8:00 pm
(Doors:

7:30 pm

)
The Southgate House Revival - Revival Room
Ages 18 and Up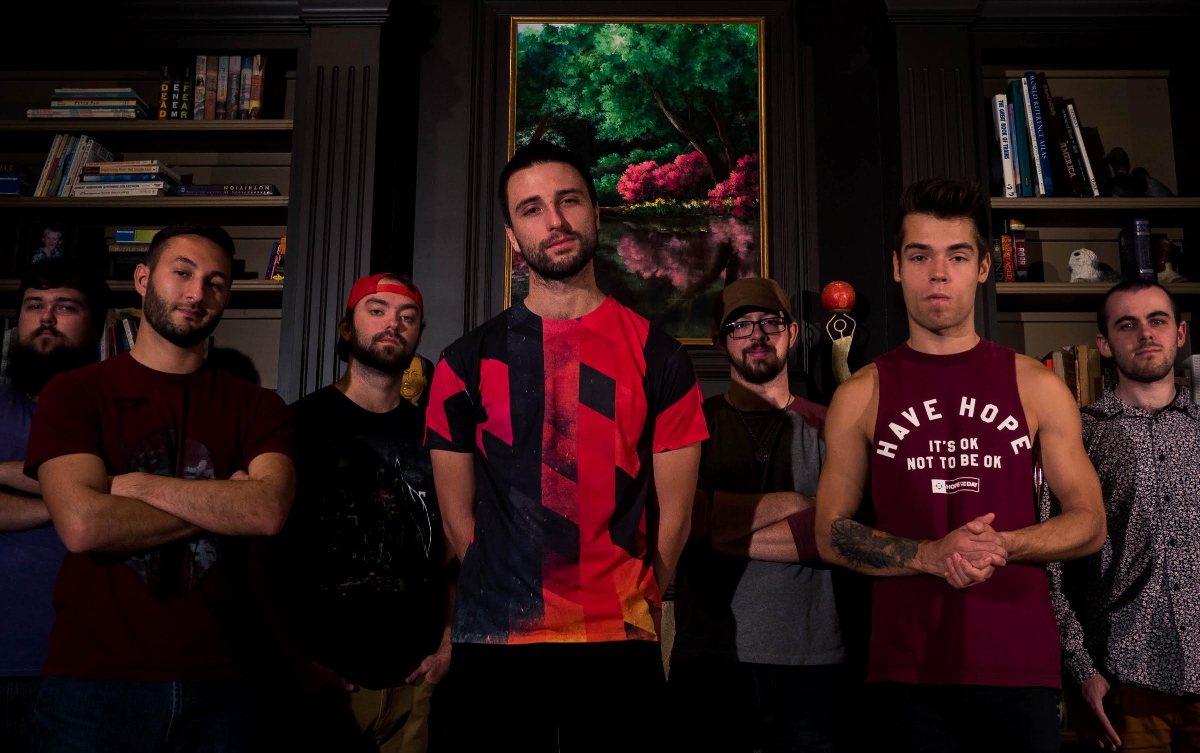 $7.00
Stacked Like Pancakes
Stacked Like Pancakes (SLP) is a boisterous Baltimore-based brass-rock band.
Beginning in 2007, Stacked Like Pancakes was founded on an idolization of artists like Reel Big Fish,
Streetlight Manifesto, and Less Than Jake. Following the 2011 debut ska album We're Not Insane, SLP
and renaissance frontman-songwriter Kellen McKay began to develop an obsession with breaking genre
boundaries. SLP has since proven to maintain a thick sonic texture through a synthesis of inspirations
including Reel Big Fish, twenty one pilots, Foo Fighters, Paramore, Cage the Elephant, and an
untraceable amount of other artists and genres.
Stacked Like Pancakes found their niche in music festivals in 2012 supporting Kid Cudi at Towson
University's Tigerfest. In 2014, SLP won the Ernie Ball Battle of the Bands competition, earning their first
appearance on the Vans Warped Tour. When they were invited to return in 2015, the Warped Tour
sparked a love for the road. In March 2017, Stacked Like Pancakes was a featured artist for the Vans
Warped Tour, performing alongside Bless the Fall, Memphis May Fire, Jule Vera, and Microwave at the
official Warped Tour Kickoff Party in Orlando, Florida. During this stretch of time, SLP embarked on
several self-booked headlining tours, a national tour supporting ska-parallels Reel Big Fish, and in 2015
released their fan-funded sophomore album THIS IS US.
Concert venues and music patrons alike should be prepared for the stage to shake, the crowd to be wild
and unpredictable, and the show to be a deliberate fusion of spontaneity and precision. The band's
trumpet and two trombonists won't be standing in the back or blending in with the backdrop as mere
support. In this self-proclaimed brass-rock band, the horns will steal the show, and the Pancake Nation
community fanbase is hungry for their band to grow.
Stacked Like Pancakes epitomizes a tough DIY band despite a meaningless band name, and are rightfully
on the rise to claim an international stage of their own.
Freak Mythology
Freak Mythology was formed in 2012 as a psychedelic and funk rock experiment in Cincinnati, Ohio.

Their debut self-titled album was released in April of 2017, landing them spots at music festivals (Hippie Fest in Athens, Ohio), song placement of their single "Headed Out" in a French short film, an Album of the Year Award 2017 by UK Rock blog "Pete's Rock News and Views", features in The Jamwich Magazine, and numerous large local shows in Cincinnati. Their singles from the first album 'Wake Up', 'Haunting Me', and 'House Arrest' have made it onto numerous college radio stations across the U.S. as well as local stations in Cincinnati.

In August of 2017, Freak Mythology placed 1st in the Cincinnati's Next Big Band Competition, winning a cash prize as well as studio time in one of Cincinnati's top studios, where they are currently in the process of recording their 2nd album. During this same period, they played heavily in the Cincinnati music scene, opening up for some of the top local acts and making a name for themselves with their tight knit and loyal fanbase.

Press and Reviews of Freak Mythology:

"Discovering Freak Mythology, a four piece from Cincinnati, is a refreshing breath of Americana-embedded alternative rock and roll."
— Charles Frank - The Jamwich Magazine

"That's the great thing about what I do, every once in a while you get to hear that band that just 'clicks'. Freak Mythology clicks."
— Pete Divine - Pete's Rock News and Views

"Truly stunning varied selection - current and original yet so evocative of years gone by - a true pleasure to have heard it" - Donald Strachen
JIMS
aka JIMS & his Mandareenians
Since 1996, at the ripe age of 11, JIMS has been performing his unique blend of styles and movements that have held a profound influence through the years. Holding frontman/guitar duties with his early projects Code Red, GDS and Prick B. Mafia, once he reached his 20s he started up his longest project to date, Sweet Ray Laurel.

During the same period he was moonlighting as a drummer in Silver Bridge Disaster then as guitar and vocalist in Good Night Noises. Soon after he picked up the sticks again for Martin Luther & The Kings and then Smoke Signals… respectively.

In addition to two unnamed new secret projects, JIMS continues to play with Sweet Ray Laurel and Smoke Signals… while also performing solo.

Alone on the stage armed with just an acoustic guitar and loop station, his songs reflect a love for all styles of music ranging from punk, world, folk and everything in between. The years of influence and experimentation with various groups has helped mold a unique, concise and focused approach which, is evident in his compositions.

Always opting for the most visceral and vulnerable outlet, his solo output is every bit of raw, in-your-face, personal and delicate as you may expect as a document of such a storied sonic past.

JIMS is currently in the process of producing his debut solo album which, should see a release during Summer of 2015 on the label//collective he helps curate with his older brother, AndRecordings.