Static Tension "Ashes To Animation" CD Release w/Feral Friends, Signal The Revolution
Sat
January 26, 2019
8:00 pm
(Doors:

7:00 pm

)
The Southgate House Revival - Revival Room
All Ages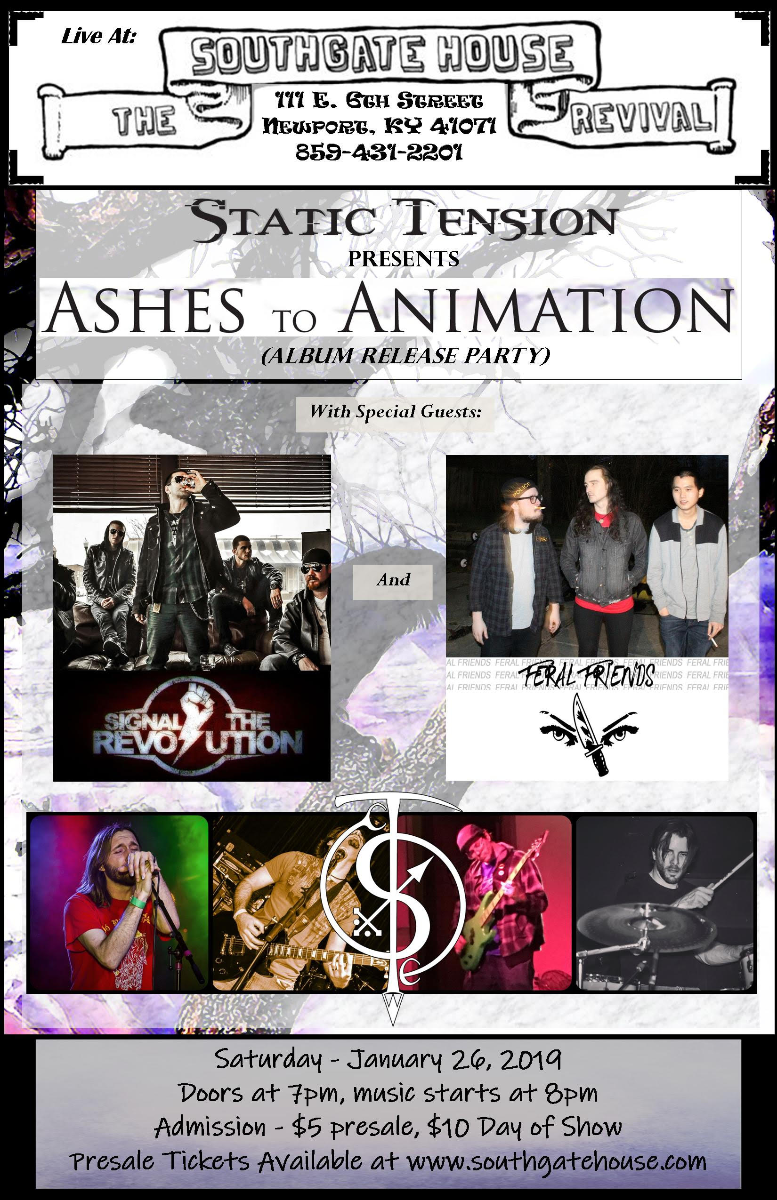 $5 adv/ $10 dos
Static Tension
As a follow up to their 2017 EP "Out Of Reach", Static Tension has re-emerged with their first full length album "Ashes To Animation", set for release in January of 2019. The Southern Ohio based quartet delves into new musical territories with the release, offering a full pallet of sounds ranging from soft acoustics to intricate, progressive metal riffs.
Drawing upon influences stemming from classic rock, grunge, and progressive metal, Static Tension creates a sound unique to their own, self described as "Progressive Grunge". The band's influences are vast and diverse, at times resembling classic sounds of Led Zeppelin and Black Sabbath, while also channeling a grungy, somber atmosphere similar to Alice In Chains and Soundgarden with hints of modern, heavy tones of Mastodon and Gojira.
Feral Friends
Derived from a mix of Kentucky blood and Cincinnati attitude, Feral Friends is the latest group to quench your thirst for a fresh new sonic experience. Let these three pals take you for a ride in a 1970 El Camino while you get down to some toe tapping tunes about women, cigarettes, and whisky.
Signal the Revolution
June 2008
Forward Operating Base Warrior
Southern Afghanistan

A phone call is made from Army Sgt. Jacob Carter to his brother Joshua Carter. Halfway through his second deployment, Sgt. Carter is checking in to let Josh know that he is alive and well. They reminisce about life, particularly of the time they shared playing music together as children. Josh pleads with his brother to consider coming home after his deployment in order to form a purpose driven rock band like they had always talked about growing up.

Sept. 2008
Kandahar Air Base
Southern Afghanistan

Another phone call is made from Sgt. Carter to Joshua Carter. In a tired and weary voice, Sgt. Carter accepts the offer proposed by his brother. Before they can finish discussing this future endeavor, a raid siren sounds off in the background. Through the chaos, Josh hears his brother's voice crackling over the war torn phone lines, "I love you brother. I have to go." The line goes dead. Months go by without word.

April 27th 2009
Fort Sill Oklahoma
USA

After eight years in the U.S. Army, Sgt. Jacob Carter returns home. By the time Jacob was processed out of the Army, Josh had already begun to gather people for their new venture.

First was Robert Lewellen, a drum instructor and longtime friend whose iron clad drumming and devotion had been a staple in a number of previous bands with Josh.
Next to join the ranks was Zach Bandy, a talented song writer and guitar player known to many from Zach's previous bands in the local music scene.

Upon the first meeting of the band, it was decided that the band name should embody the trials of their past and the tremendous forward momentum leading them into the future. And with that, a goal was etched in place... Create art that could change the world. On September 8th 2009, they would become Signal the Revolution.
Signal the Revolution are brothers in arms, brothers in life, and brothers in music.