Get Stuffed on Music at The Southgate House Revival
Wed
November 21, 2018
8:00 pm
(Doors:

7:00 pm

)
The Southgate House Revival
All Ages
$10 adv/ $15 dos
Get Stuffed on Music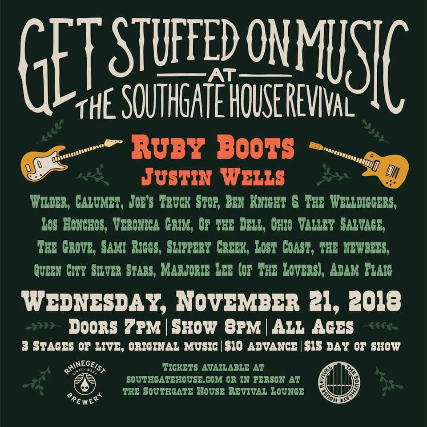 Get Stuffed on Local Music at The Southgate House Revival on Wednesday, November 21st 2018
3 Stages of LIVE, Original Music - $10 adv/ $15 dos - All Ages - 7pm doors, 8pm show.
Bands Include: Ruby Boots, Justin Wells, Joe's Truck Stop, Slippery Creek, Calumet, Lost Coast, Wilder, Sami Riggs, Ben Knight & The Well Diggers, Veronica Grim, Los Honchos, Of The Dell, The Grove, Marjorie Lee, Ohio Valley Salvage, Adam Flaig, The Newbees, Queen City Silver Stars.
Sponsored and TAP TAKEOVER by Rhinegeist including CRASH (An explosively hoppy pale ale, Crash combines potent aromatics of Azacca, Equinox and Cascade hope to combust with tropicality, citrus, peach, tangelo & papaya - a kinetic & delicious hop explosion.), CHEETAH (Cheetah is an agile, easy-drinking Lager. Bright, light, with a tinge of malt and citrus character, this brew is crazily crushable), MARGARITA MONDAY (Tequila barrel aged Dodo (Gose) with lime and salt.), VALOR (Valor is our beer to commemorate veterans. This Kentucky Common meets malt liquor has a 6.5% ABV punch with a distinctive, unique flavor that comes about by use 6-row and vienna malt as well as flaked corn.)
Ruby Boots
At 14 years old, Ruby Boots – real name Bex Chilcott – left a conflicted home in Perth, Western Australia to do gruellingwork on pearling boats and she hasn't stopped migrating since. Her nomadic streak has taken her around the world and eventually to Nashville, TN.

Don't Talk About It charts this drifter's odyssey, tattered passport in hand. Behind her commanding and versatile voice, sharp guitar playing and adept songwriting, Ruby Boots confidently manoeuvres past the whirlwinds life has tossed on her occasionally lost highway. It's an album of hope, breakthrough, and handling the unknown challenges around the next bend.

The roads taken, the miles traveled and the voices heard during Ruby's life's trek resonate throughout Don't Talk About It. Informed as much by the wide-open landscapes of her homeland as the intimate writing circles of Nashville, the album may range far and wide but always maintains a firm sense of place. Echoes of first wave UK power pop and jangly punk intersect with the every(wo)man indie and pop-inflected muscle of Best Coast. Classic rock touchstones from T. Rex to Girl Group Wall of Sound to personal hero Tom Petty meld with a weary poet's eye recalling Hope Sandoval.

On her sophomore album Ruby continues to map out a polished-yet-fearless, bare-knuckled self, previously hinted at on her last album, Solitude. In 2016, Ruby met with Lone Star state-bred studio wizards The Texas Gentlemen and the album's eventual producer Beau Bedford. The group had stopped off in Nashville on their way to back Kris Kristofferson at Newport Folk Festival and a mutual admiration society quickly coalesced. The collective pulled a handful of songs from the 40 she had waiting and began recording at their Dallas-based studio, Modern Electric Sound Recorders.

The album rips right open with "It's So Cruel", strutting through the door with split harmonic, bawdy, fuzzed-out guitars, reminiscent of a glammy, '70s Southern rock-soaked Queens of the Stone Age. It all captures the meteoric emotional flares of an adulterous relationship destined to fail. The Gentlemen spell a Stetson-hat wearing Wrecking Crew, as they lay down dusty gothic vibes in the Nikki Lane co-written "I'll Make It Through", building towards a crescendoing, persevering, bright chorus. On "Believe in Heaven" doo wop beats, dark choral echoes, and a plucked string section lead into ZZ Top full-bodied rawk riffage.

But the most defining of tones come through in spirit, when on the a capella "I Am A Woman" Ruby reaches towering vocal peaks, shredding raw, putting it all out there. The song could be a traditional spiritual, as she belts: "I am a believer/ Standing strong by your side/ I'm the hand to hold onto/ When it's too hard to try… I am a woman/ do you know what that means/ You lay it all on the line/ When you lay down with me."

Of the song Chilcott says, "'I am a Woman' was conjured up amid recent events where men have spoken about, and treated women's bodies, the way no man, or woman, should. This kind of treatment toward another human being makes every nerve in my body scream. These kinds of incidents are so ingrained in our culture and are swept under the carpet at every turn—it needs to change. As tempting as it was to just write an angry tirade I wanted to respond with integrity, so I sat with my feelings and this song emerged as a celebration of women and womanhood, of our strength and our vulnerability, all we encompass and our inner beauty, countering ignorance and vulgarity with honesty and pride and without being exclusionary to any man or woman. My hope is that we come together on this long drawn out journey. The song is the backbone to the album for me."

Don't Talk About It smoulders with a fighting spirit and pulls influence and experience from many pins in the map, but is 10 songs harbored in the singularity that is Ruby Boots.

"When you're invited to share a bill with headliners like Kris Kristofferson, Justin Townes Earle, Shovels & Rope, Nikki Lane, Reverend Horton Heat, and Tony Joe White, you're bound to learn a thing or two. Yet, in listening to her debut album, one can't help but suspect that it was Ruby Boots' own style and savvy that earned her a place on that stage to begin with" - No Depression

After recently being named as a 'Americana Festival 2016 Showcasing Artist to Watch' by renowned US magazine, American Songwriter, work on her second record is underway with tracking scheduled for early Jan '17 and release slated for mid 2017.

"Every day I wake up hungry for it, it's what I live for. I'm extremely excited and very fortunate to be able to do it. As each day passes I'm more and more grateful for it and it keeps growing. All these beautiful things keep happening and you realise how lucky you are – though I believe you have to create your own luck." - Ruby Boots

Rolling Stone AU Most Anticipated 40 Albums in 2018
Rolling Stone US Most Anticipate Albums and Tours in 2018
Rolling Stone US 20 Best Things We Saw at Americana Fest 2017
Courier Mail ****
The Age ****
The Music ****
Beat Magazine ****
Top 25 Albums 2015 – The Music
Top Americana Albums of 2015 – Post To Wire
Top 10 Albums – Rhythms Magazine
Triple RRR - 'Feature Album of the Week'
Justin Wells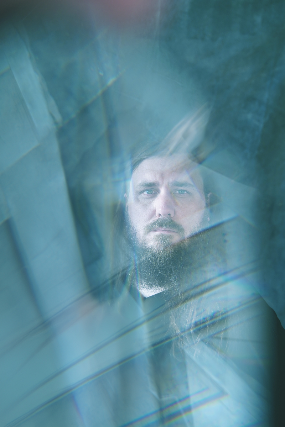 On Dawn in the Distance, Wells' voice still packs a Kentucky-sized punch, but his solo debut takes a look beyond the Southern stomp of his former band. Call the new sound Americana. Call it blue-collar country. Call it fiery folk. While recording the album, Wells was simply concerned with serving the songs, teaming up with producer Duane Lundy (Sunday Valley, Joe Pug, Vandaveer) and creating Wells' most affecting album to date. Songs like "Going Down Grinnin'" (which Wells describes as "embracing failure with a smile") and "Three Quarters Gone" (inspired by the retirement of the singer's father) are layered with pedal steel guitar, auxiliary percussion, and keys.

On the album's front cover, a beat-up suitcase sits beside a door. For years, that suitcase carried Fifth on the Floor's merchandise. Now, it serves a different purpose, connecting Wells' past with his next destination. He's still traveling, still writing songs, still spending long evenings behind the wheel. He's just pointed at a different horizon.
Joe's Truck Stop
Conceived at a greasy spoon, Joe's Truck Stop is here to replace the pills in that there jar.

Please, put those away.

You can usually find them ripping apart Old Time Appalachian fiddle tunes, paying tribute to their country heroes, and dishing out original songs to the dancing feet in the crowd.

Their unique sound is characterized by traditional vocal harmonies, Bluegrass drive, wild fiddling, hot guitar picking, doghouse slapping, and the Honky Tonk and Swing sounds of old...

Check out new songs from our upcoming record and download our acoustic, Old Time album "Demo Derby" for free at http://joestruckstop.bandcamp.com/.

More about the band: Members of the band are award winning instrumentalists from Bluegrass and Old Time Contests around the country, and the band itself has placed twice in the largest Old Time band contest at the Galax Old Fiddlers' Convention. In our progression from being solely an Appalachian Old Time stringband to an acoustic and electric Country and Blues band, we have played numerous festivals and venues from the Whispering Beard Folk Festival, to the Kennedy Center, to the many stages we've frequented in Boston/New England becoming regulars in the scene. We've shared bills with: JP Harris & the Tough Choices, the Sweetback Sisters, Rachel Brooke, the Ten Foot Polecats, King (Sasquatch) Sickabilly & the Howlin' Moon Boys, Jake & the Burtones and many other acts. We've also appeared on television and radio, including several Boston stations and Rockabilly Worldwide's 24-hr. Rockin' Therapy Radio.

Joe Macheret, the bandleader, has also lent his instrumental skills to folks like Wayne Hancock, the Tillers, Lucky Tubb and the Modern Day Troubadours, the Goddamn Gallows, and many other well known musicians and bands.
Slippery Creek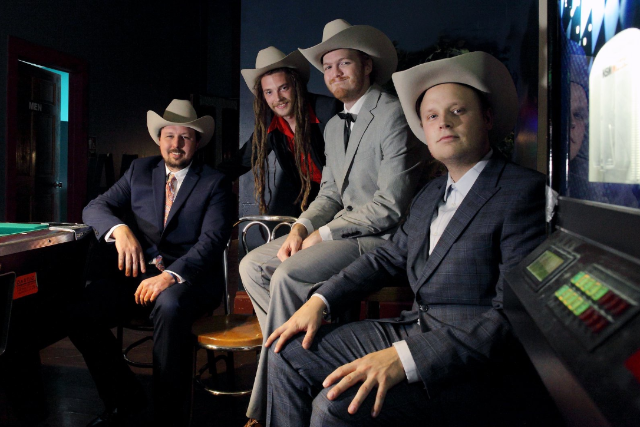 Good ole downhome bluegrass from the Cincinnati area.
Calumet
Calumet recalls the sounds of some of it's members previous efforts (Alone at 3AM, 500 Miles to Memphis, The Frankl Project) but looks to the beginnings of american music for its inspiration. The result is catchy and comfortable, familiar like you've met before, but rest assured you haven't.
Ben Knight and The Welldiggers
Ben Knight was born in ky. He's lived here all his life. But I have a pretty good feeling his gift for song writing is gonna take him quite a few places. If we listen closely he might take us with him, whether it's down a dirt road with a few beers and a love song on the radio or to Louisiana where a hitman ponders what he'll leave his son when he joins those unlucky gamblers in the grave.
Ben Knight is making a reputation for himself among music listeners as a damn good songwriter and a great performer. He's making a name for himself with other musicians as "that kid who writes better country songs than people who've been doing it for as many years as he's been alive" And it annoys some of us. Cause every time you talk to him he's got something new and the last couple might not have made it onto a record. Careers could be hiding in his trash can.
After a few ambitious solo records and a failed band or two Ben Knight has finally got his shit together. His band Ben Knight and the Well Diggers, bring him a full, instantly professional sound. These are the kind of guys who could take a dingy dive bar gig or a packed stadium with the same attitude. They love what they do.
Wilder
Storytellers from Greater Cincinnati with distinct Kentucky swagger.

Inspired by American songwriters, Wilder is rooted in tales of the common man, flanked by great melodies and three part harmonies. Formed by Kelly Thomas and Randy Steffen in 2014, around a simple idea... write songs that stand on their own. In the time since, the group has grown to add some texture. Wilder gained some outstanding musicians in guitarist Zach Rowe, bassist John Schmidt, and drummers Kevin Hogle & Christopher Alley.
The Grove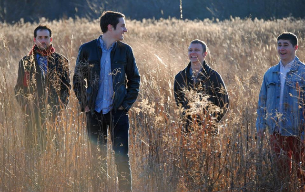 The Grove is a Cincinnati based rock band that draws from an impressive range of influences to forge their hard-hitting, yet emotive, signature sound.

Built around the songs of lead vocalist/guitarist Adam Forsthoefel, the band has been described as, "The Black Crowes meets The Red Hot Chili Peppers"; careful listeners will also hear shades of everything from Stevie Ray Vaughan to the Killers.

The Grove's origins were in the band SomeDaze, started by Forsthoefel and drummer Jeff Voegele, who attended high school together in Anderson, Ohio. SomeDaze quickly became one of the hot upcoming bands in Cincinnati, with performances at local clubs and festivals as well as several appearances on Cincinnati's local news channel Fox 19. While the band's reputation grew, Forsthoefel became known in his own rite as a local guitar phenomenon. He was regularly invited to open Cincinnati Reds games at the Great American Ball Park with his rendition of the national anthem, and made the rounds doing interviews for local radio stations and NPR.

After High School, Forsthoefel and Voegele moved to Athens, OH to attend Ohio University, where they started playing with local Athens players at venues such as Jackie O's and The Union. Eventually they joined with members of the band Standing on Friday, and rehearsals began at their house on Grosvenor Street. These rehearsals at "The Grove" started becoming informal shows; it wasn't long before the band that was born there became a mainstay of the Athens music scene, releasing their debut CD "Procuriosity" in December of 2012. In addition to playing in Athens, The Grove made frequent trips back to Cincinnati, playing local music festivals and at the famed Fountain Square.

When Forsthoefel and Voegele returned to Cincinnati after graduation, they decided to keep The Grove alive and added new members to replace those it had left in Athens-Adam's brother Matthew Forsthoefel on keyboards, and bassist Matt Holt (Bolt) holding down the low end. They then quickly got to work re-introducing themselves to the Cincinnati scene, playing local buzz rooms like The Northside Tavern, Bogarts, Madison Theater, Stanley's Pub, and The Backstage Café. The band continues to write and record new music while winning new fans with their energetic live show and solid musicianship.
Marjorie Lee and The Lovers
Marjorie Lee and The Lovers formed in early 2015 by singer/songwriter Marjorie Lee, as an outlet for the backlog of material she had written over the years. Joined by married couple Jon Lattier on bass, and drummer Kristin Agee (Us, Today); Marjorie Lee and The Lovers have been performing in and around their home town of Cincinnati, Ohio. Their debut album "The Lovers" was recoreded in Nashville, TN by producer Daniel Agee, was released in March 2017. Their second album "Ohio" is a collection of original songs about growing up and living in rural Ohio, and is slated for release in September 2018. "The band is based around the singing and songwriting talents of frontperson Marjorie Lee, who crafts lovely, heartfelt Pop/Rock songs full of honesty and introspection. The breezy tunes are augmented by moody atmospherics created with help from the rest of the band — Us, Today's Kristin Agee on percussion and bassist Jon Lattier of The Almighty Get Down." - Mike Breen, Citybeat.com
Ohio Valley Salvage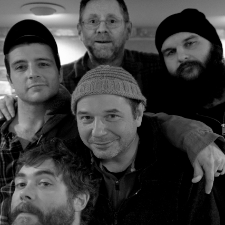 Ohio Valley Salvage is original rock & roll, cobbled together from members of some of your favorite Cincinnati/NKY bands.
The Newbees
Modern Vintage Songwriters
It's a Mad, mad world and The Newbees are madly in LOVE, with music and with celebrating life.
For over a decade, The Newbees have been producing compelling original compositions and delivering exuberant performances with exceptional musicianship, rich harmony, lush orchestrations, high energy and fearless positivity.
Adam Flaig (of Mad Anthony)
Melodic, sometimes swampy acoustic songs with energy that comforts. He delievers.
Queen City Silver Stars
The Queen City Silver Stars are united with the hopes of bringing the uplifting sounds of the Caribbean to the Cincinnati area. With members experience including the acclaimed Miami University Steel Drum Band, The Silver Stars (located in St. Kitts) and Mas N' Steel (Tallahassee, FL), the group brings a professional and energetic vibe to their repertoire. QCSS specializes in combining Soca, Calypso, Reggae and other world styles into their own original songwriting ending with a sound all their own! Come lime with us!
Sami Riggs
Riggs is from Independence, Kentucky, where the midwest meets south, and the roots of American rock, pop, country and soul have jointly influenced her style. Riggs' music is reminiscent of Sheryl Crow, early Liz Phair, Juliana Hatfield and The Bangles. Aided and abetted by Cincinnati based co-writer, guitarist and producer, Brian Lovely, 24 year old Riggs continues to explore the origins of her influences in the singer-songwriters and classic power pop of the sixties and early seventies.
Los Honchos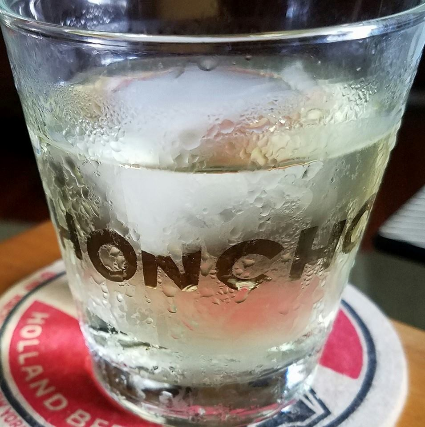 Los Honchos formed in early 2005 rising from the ashes of a primitive garage band of the same name. The two survivors; front man Little Bill and his geetar playin' sidekick Mike, wanted more out of a band than three chords and a hangover so they set out on a quest to reinvent themselves. They dove in to Mike's massive collection of scratchy vinyl records and came up with a weird mixture of gritty Southern soul, honkin' R&B, wild pre-Beatles rock'n'roll and cheesy instrumental lounge tunes (the kind that strippers like) and possessed with a fever that Dr. Frankenstein would have been proud of they decided to mash it all together into one big funky mess. It looked good on paper (at least it would if they had bothered to write it down) but how would they pull this off? In stepped bassist extraordinaire Nick LLoyd who had the good taste to believe in this crazy idea. Nick was armed with actual musical talent and connections to the cats they needed to pull this thing off. Los Honchos were on their way. Before long Nick had recruited sax maniac Dan the Man Barger and stealth trumpeter Rob Mulhauser. After several changes in the drum chair the band was completed when Chip Blome strolled in and laid down a funky beat that the kids could dance to. One quick trip to the tailor and six cheap matching suits later the band was unleashed on the sleepy little town of Cincinnati, Ohio. Since then the band has been plugging away at local watering holes slowly building up a following of confused but happy fans who appreciate the bizarre melting pot of music that is Los Honchos.

Of The Dell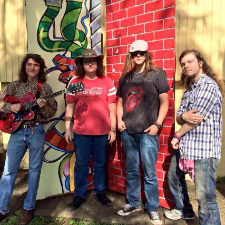 Young, restless and useless rock N roll created by four rough, rowdy and semi conscious West Virginia natives. Don't call us boys because we ain't scared!