Scott H. Biram/The Goddman Gallows w/ Urban Pioneers and Dead Man String Band
Wed
April 3, 2019
8:00 pm
(Doors:

7:30 pm

)
The Southgate House Revival - Sanctuary
Ages 18 and Up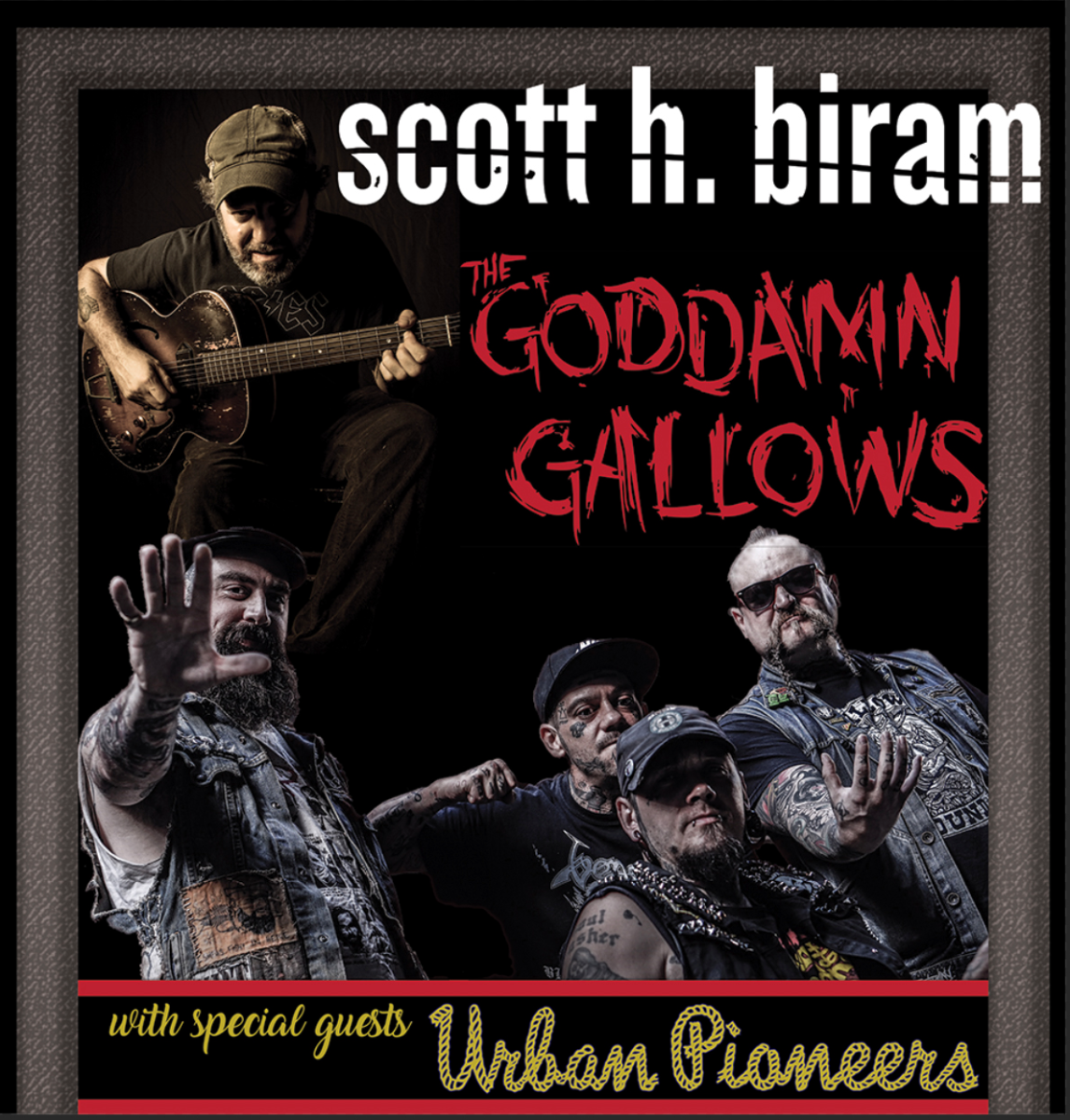 $20 adv/ $22 dos
Scott H. Biram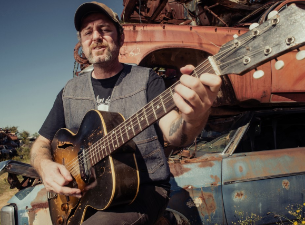 With the heart of a genuine Texas bluesman, the head (banging) of a Zappa and Lemmy disciple, and boots resting in the dust outside of town at sunrise, Scott H. Biram journeys through the harrowing human condition like no one else. A walk on the Biram side straddles the chasm between sin and redemption and The Bad Testament lands somewhere west of the Old Testament and south of an AA handbook. It's a record of hard-grinding lost love, blues and deep, dark Americana.

Scott H. Biram conjured the words and music for The Bad Testament during mad alchemical sessions at his homemade studio in Austin, TX. Through stacks of amps, spools of cable, and a prodigious collection of microphones, he spread his technical wings wide, while never losing the immediacy honed from a life on the road. He added a drum kit and rustic vocal duet to his skill set (which already includes all guitars, bass, keyboards, vocals, and percussion on the album). And strip away the one-man band eccentricity, SHB is out-writing any meeting taker on Music Row. The man writes on a razor's edge of aggression and deftness, thoroughly contemporary but steeped in the backwaters, back porches and back alleys of our collective musical heritage.

Many in the one-man band field find their groove and stay in it, but stay in a groove too long and it becomes a rut. SHB has the groove, but never falls into a rut. On "Set Me Free" and "Red Wine" the wandering country soul of Jimmie Rodgers and the laid-back cool of Merle Haggard ride well with SHB's distorted punk; it's the 2-sided jukebox hit at the honky-tonk behind the looking glass of CBGB's. "Righteous Ways" and "Still Around," mellower, but no less determined, sound right out of the Folkways canon. Speaking to eternities and charlatans, Biram's freewheelin' with an edgy take on the Newport Folk vibe. With its surprisingly melancholy organ and in the back of the pocket tattered soul, "Crippled & Crazy," recalls The Band. The haunting harmonica-soaked ballad "Long Old Time" is a chilling taste of existential desolation, "It's gonna be a long old time/ before I pay for the crime that I done." This is one lost highwayman.

Fear not, though, Biram is still The Dirty Old One Man Band. His brand of unvarnished and unhinged aggro-roots remains as exciting as ever. "Trainwrecker" blasts down the two-laner with the breathless fervor of a redneck metal "(I'm Not Your) Stepping Stone." Try NOT singing along in the best Nordic Doom Metal voice we all carry around buried within our darker selves. He's downright blunt on the R-rated Boomhauer TX rant "Swift Driftin'": "It takes a real piece of shit to be a real piece of shit/ You should really just be headed on your way." Yet the stark acoustic guitar country blues is updated and self-aware – a profane reboot of personal heroes Leadbelly and Mississippi Fred McDowell. The instrumental "Hit the River" is a throw the devil horns slide guitar boogie right in that sweet Biram groove. And. It. Will. Not. Let. Go. It's short, not-so-sweet, and leaves you panting for more.

Scott H Biram is THE one-man band. The master of the realm. Why? Because even though he's one man, he ain't one thing.
The Goddamn Gallows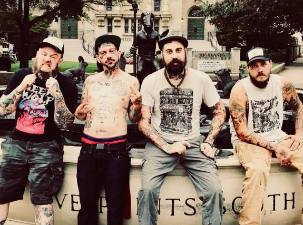 The Goddamn Gallows came from the heart of America's Rust Belt, arising from a night of flophouse violence. Drifting across the states, they cemented their sound in Portland, OR and later in Los Angeles, CA, where they lived in abandoned buildings, squatter camps, storage units and shoebox apartments.

In 2007, they left everything behind and spent the next 4 years living out of whatever vehicle would get them to the next town. Building upon their original sound of twanged-out, punk rock gutterbilly (Life of Sin 2004 and Gutterbillyblues 2007), they began picking up stray musicians along the way and adding to their sound; washboard, accordion, mandolin and banjo (Ghost of th' Rails 2009 and 7 Devils 2011) creating a sound referred to as "hobocore", "gypsy-punk" or "americana-punk", while never being stuck in any one sound.

The Goddamn Gallows continue to rapidly grow a devoted following with their volatile and spectacular live shows; a contagious, spontaneous eruption of unpredictability.
Urban Pioneers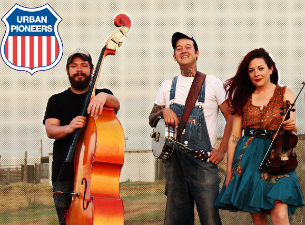 Mix one part Texas fiddle and one part Tennessee banjo, add doghouse bass and a splash of guitar and you have a delicious cocktail for your ears known as the Urban Pioneers. This string band hammers out a variety of original songs that encompass old time hillbilly music, western swing, rockabilly, and even a few gypsy type songs for good measure.

The band stays on the road all over the world for over 250 days a year playing anywhere from large festivals to backyard parties to goat farms.
Dead Man String Band
Strait from 6 feet under comes Dead Man String Band! A one man rock sideshow from Cincinnati, OH. This isn't the one man acts of the past you've seen before, instead it is a full on rock show with an arsenal of amps, drums, and a style that's truly unique to the Dead Man giving it the fan made genre of Appalachian/Delta Punk. Since it's creation Dead Man String Band has been wowing and captivating audiences with not only an amazing sonic display but a visual show made to grab the listeners eyes, as well as their ears. With a stage setup that has been referred to as "Looking at a science experiment" Dead Man String Band has created a sound all his own that will surely grab your attention.

Taking DIY to a whole new level is a phrase commonly used to describe DMSB's sound, presentation, theatrics, and energy. From being brought out on stage in a coffin, to simply slumping towards the stage stiffly, throwing the audience off, until the first notes hit and by that time their stuck to their spot on the floor. Brining crowd members on stage and making them play his drums is just another thing that makes this act unique. Crowd participation isn't just encouraged, it's almost forced to an almost comic like degree. The presentation is another captivating aspect. Dawning a mask fabricated from the same folks that brought you GWAR's props, when he walks on stage you know you're in for a crazy night. Finally the music styling isn't something most are accustomed to seeing. The hands are playing in the stylings of Doc Watson but the amps are in the tone of Slayer and then add the fact that he's playing a drum set at his feet. Don't let the low number of members fool you. This is a band as much as any other.

March 21st, 2015 marked the release of Dead Man's debut album "I" which was widely accepted with much anticipation. And that's where we're finding ourselves today. With a new album out and a promising horizon, the Dead Man String Band plans on becoming a force to be reckoned with!