Mdou Moctar, Guerilla Toss
Mon
April 1, 2019
8:00 pm
(Doors:

7:30 pm

)
The Southgate House Revival - Sanctuary
Ages 18 and Up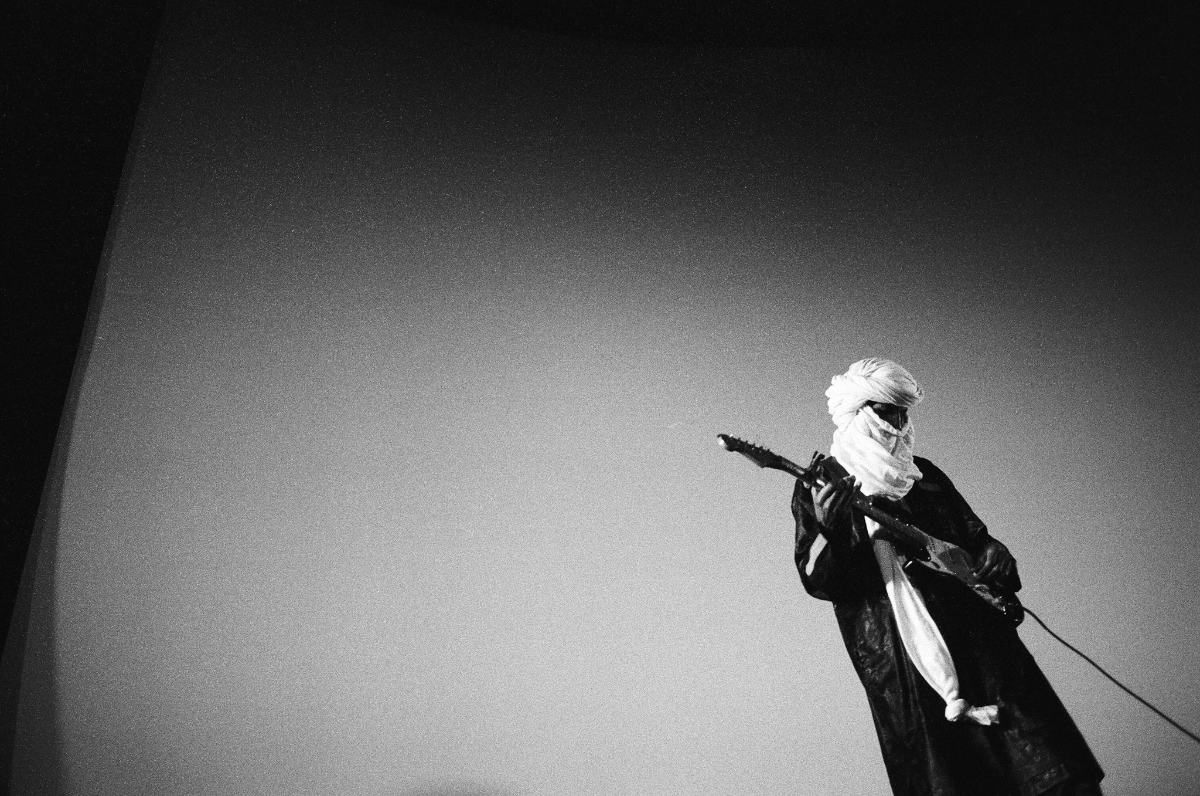 $15.00
Mdou Moctar
Mdou Moctar immediately stands out as one of the most innovative artists in contemporary Saharan music. His unconventional interpretations of Tuareg guitar have pushed him to the forefront of a crowded scene. Back home, he's celebrated for his original compositions and verbose poetry, an original creator in a genre defined by cover bands. In the exterior, where Saharan rock has become one of the continents biggest musical exports, he's earned a name for himself with his guitar moves. Mdou shreds with a relentless and frenetic energy that utterly sets him apart.

Mdou Moctar hails from a small village in central Niger in a remote region steeped in religious tradition. Growing up in an area where secular music was all but prohibited, he taught himself to play on a homemade guitar cobbled together out of wood. It was years before he found a "real" guitar and taught himself to play in secret. His immediately became a star amongst the village youth.

In 2008, Mdou traveled to Nigeria to record his debut album of spacey autotune, drum machine, and synthesizer. The album became a viral hit on the mp3 networks of West Africa, and was later released on the compilation Music from Saharan Cellphones. In 2013, he released Afelan, compiled from field recordings of his performances recorded in his village. Then he shifted gears, producing and starring in the first Tuareg language film, a remake of Prince's Purple Rain (Rain the Color Blue with a Little Red in It). Finally, in 2017, he created a solo folk album, Sousoume Tamachek, a mellow blissed out recording evoking the calm desert soundscape. Without a band present, he played every instrument on the record. "I am a very curious person and I want to push Tuareg music far," he says.
2019 brings his first recorded in a proper studio - Ilana (The Creator), out Mar. 29th on Sahel Sounds. He has shared the first single, "Kamane Tarhanin," and has announced spring tour dates in support of the new record. A long time coming, Ilana is Mdou's first true studio album with a live band. Recorded in Detroit at the tail end of a US tour by engineer Chris Koltay (the two met after bonding over ZZ Top's Tres Hombres), the band lived in the studio for a week, playing into the early hours. Mdou was accompanied by an all-star band: Ahmoudou Madassane's (Les Filles de Illighadad) lighting fast rhythm guitar, Aboubacar Mazawadje's machine gun drums, and Michael Coltun's structured low-end bass. The album was driven by lots of spontaneity – Mdou's preferred method of creation – jumping into action whenever inspiration struck. The resulting tracks were brought back to Niger to add final production: additional guitar solos, overdubs of traditional percussion, and a general ambiance of Agadez wedding vibes.

The result is Mdou's most ambitious record to date. Ilana takes the tradition laid out by the founders into hyperdrive, pushing Tuareg guitar into an ever louder and blistering direction. For Mdou, his style is to draw on both modern and traditional sources and combine elements into new forms. In "Ilana" Mdou reaches back into Tuareg folklore for inspiration, riffing on the hypnotic loops of takamba griots, or borrowing vocal patterns from polyphonic nomad songs, and combining them with his signature guitar. You can hear the effect in tracks like "Kamane Tarhanin," where a call and response lyric lifts up over a traditional vocal hum before breaking into a wailing solo with tapping techniques learned from watching Youtube videos of Eddie Van Halen.

As Mdou travels the world, he divides his time between two places, alternating from lavish weddings in Agadez to sold out concerts in Berlin nightclubs. It offers a unique perspective, but also means that he needs to address different audiences. At home, his compositions send a message to his people. Abroad, his music is an opportunity to be heard and represent his people on a world stage.
Guerilla Toss
Analog synthesizers give tangible life to the works of Guerilla Toss. Whether it be the sound of a rocket ship, a kitten-with-a-wah, distorted dolphins, or a clavichord made out of honey-baked ham, the band consistently finds new ways to bring together the many ideas that combine to shape each new batch of art-rock puzzle pieces.

Twisted Crystal, Guerilla Toss' new LP, feels more personal than ever for the band. Angular yet irresistibly catchy, this collection of pop songs pulls influence from powerful groups like The Slits, ESG, Gina X, and early Madonna, with sing-speak vocals from Kassie Carlson nodding to legendary artists like Laurie Anderson, Grace Jones, and Lizzy Mercier Descloux – combining this all into a twisted, crystalline concoction.

Oracles and enigmatic egos are common lyrical themes, but charismatic instrumentality springs the listener back to extraterrestrial comfort. Old favorite sounds ring true from the trusty Sequential Circuits Six Track Synthesizer and Clavia Drum Machine. New, more refined sounds are molded and polished by drummer/producer Peter Negroponte, whose passion for perfection and creation goes far beyond an all-consuming Tetris effect. Peter has truly excelled on this new recording, creating a complex networks of beats and sound that become easily intertwined with the rhythmic fabric of life.

Raised in a devoutly religious family, vocalist Kassie Carlson started performing at the age of five. She often participated in large pastoral choral performances, as well as her family's four-part harmony gospel quartet, making her no stranger to the stage. Growing up under the fear of God leaves a distinct footprint on your perception. An omnipresent male dictates not only your present waking life but also the rest of your eternity. Discovering a rock band was more than self-expression for Kassie, it was a manifestation of a self-healing temple, a personal pipeline for power. What better way to part the waters of toxic sludge than a matriarchal shout?

Arian Shafiee, Guerilla Toss' resident textural-guitar guru, is inspired by aspects of non-Western tuning and extended techniques. He designs moments of dense, glistening, pitch-shifted harmony and measured strumming that link classical impressionism to no-wave and early minimal music. His recent solo work truly comes through on this new record, as he tethers fantastical surreality to noise rock to deconstructed Middle Eastern pop music.

Keyboardist Sam Lisabeth paws the keys with distinct virtuosity and expressive sass. A new member, Stephen Cooper (of the band Cloud Becomes Your Hand), binds the group with an urgent, disciplined, and melodic style. The hypnotic, ostinato-like basslines and up front rhythm tracks guide and grip each song like gravity, keeping the listener from swirling off into the cosmos.

In albums past, Kassie's performances resembled more of a manic, possessed high priestess; humming at the gates of hell, hacking telepathy and tugging the strings of every audience member. Twisted Crystal goes beyond this familiar darkness, leading us into a rhythmically calming charm with deep wisdom, serenity, and understanding. What is a twisted crystal? And who told you it would heal?

At times the listener wanders through mazes of dizzying, alternately pulsing time signatures, but the roads always bounce, meet and magically snap back together. That meditative groove, both live and in the studio, has become signature for Guerilla Toss, drawing deep influence from 70s krautrock and experimental rock music like Tom Tom Club, Talking Heads, Brian Eno, Neu!, Cluster, Todd Rundgren, and La Dusseldorf.

A constantly evolving, living breathing entity, the band now presents the album Twisted Crystal. Enjoy the same surrealistic, kinetic healing energy of live Guerilla Toss, today in your own home.